Trucks on Trucks (Hardcover)
Search for Books or E-books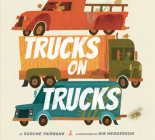 Description
---
What's better than a truck? A truck on top of another truck! Trucks on Trucks hits the highways and the byways while exploring basic concepts such as size, shape, color, numbers, and professions. A wonderful choice for children who love vehicles vehicles and books such as Donald Crews's Truck and Freight Train, and Alice Schertle and Jill McElmurry's Little Blue Truck. 
Trucks on trucks on trucks! Large trucks, small trucks, red trucks, blue trucks . . . and don't forget about your truck.
Featuring Sorche Fairbank's lively, rhythmic text and illustrator Nik Henderson's bold and energetic art, this picture book stars page after page of trucks hauling trucks. Trucks on Trucks is custom-built for vehicle lovers and introduces young readers to basic preschool concepts such as size, colors, numbers, professions, and community. A fresh new take on the classic "things that go" theme. 
About the Author
---
Sorche Fairbank lives outside of Boston, Massachusetts, and in New York's Hudson Valley. While the first picture books she ever loved tended to involve animals (church mice, an elephant king, circus koalas, a pig with a talking bone), her nephews' passion for stories about trucks won her over. Trucks on Trucks is her first picture book.
Nik Henderson was raised in Strafford, Missouri, where he still lives, and studied illustration at the Savannah College of Art and Design in Savannah, Georgia. When he was little, he was convinced that his father's Toyota Tacoma was a monster truck. Trucks on Trucks is his first book.
Praise For…
---
"The power of varied repetition hooks even readers who aren't truck aficionados in a title that initially seems as literal as they come . . . But the arrival of less commonplace fare—a pink vehicle sporting painted daisies, and a green truck interacting with nothing at all—raises questions about what combination will turn up next. . . . [Will] draw plenty of laughs." — Publishers Weekly
"What could be better than a truck? Two trucks, one on top of the other! . . . A colorful picture book, which features a new combination or two on each double-page spread. . . . Created with gouache and digital elements, the vibrant illustrations show a strong sense of color, composition, and child appeal. . . . The book could be used for counting, identifying colors, or sorting by size. With eye-catching jacket art, this book will quickly find its audience." — Booklist
Search for books and ebooks