I'm From (Hardcover)
Search for Books or E-books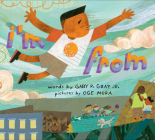 Description
---
A poetic, heartwarming ode to the small, defining moments of a boy's life, by a brilliant new debut and a Caldecott Honoree. For fans of Last Stop on Market Street. 
Early morning wakeups and homemade pancakes, 
Raucous bus rides and schoolyard games, 
Family games and bedtime rituals… 
These are the small moments that shape a child's day. I'm From is an invitation into the vivid world of one small boy, a poetic account of all the people and places and things that shape who he is and define where he is from. 
About the Author
---
Oge Mora graduated from Rhode Island School of Design with a BFA in illustration. Her debut picture book, Thank You, Omu!, was a Caldecott Honor Book, a New York Times Notable Book and Editors' Choice, and a Junior Library Guild selection. She is also the author-illustrator of Saturday as well as the illustrator of The Oldest Student: How Mary Walker Learned to Read. Oge lives in Providence, Rhode Island, and invites you to visit her website at ogemora.com.
Praise For…
---
"The reiterative phrase 'I come from...' frames the reflections of a Black child narrator discussing their identity in this tenderly observed picture book. Layered collage spreads by Caldecott Honoree Mora pulse with vibrant color and movement. Poet Gray, making a picture book debut, models the process of, and the power in, learning that 'I come from/ somewhere.'" — Publishers Weekly (starred review)
"While describing a seemingly ordinary routine, the lyrical text is a journey through Black language and culture, evoking a sense of identity, community, and connectedness. Mora's mixed-media illustrations enhance the poetic storytelling. The colorful collage-work adds texture and motion to the pages, while selective hand-lettering emphasizes parts of the verse. This beautifully rendered picture book serves as a reminder of the importance of familial and cultural identity and the grounding that it offers in the wider world." — Horn Book (starred review)
"In a book that comes right from the heart, Gray explores a young Black boy's experience during a typical day in his neighborhood. Mora's beautiful illustrations enhance the view of the hero's environment and experiences. Although the focus of this book is on a Black family, children of all ethnicities and gender identities will be able to relate to the main character feeling out of place for something that outwardly casts him as "different" from others. A beautiful, simple look into one child's typical experience that all readers can learn from and relate to." — School Library Journal (starred review)
"Elegantly crafted verse alternates between alliteration and sounds that pack a vocal punch. To match the impact of the text, Mora's art is varied and attractive, utilizing mixed media to convey a patchwork of textures and the purposefully unpolished hand of a kid's drawings as a riot of color splashes every page. This picture book is a beautiful, dreamy, powerful answer about identity in response to a racist question that attempts to reduce kids of color to something easily contained." — Bulletin of the Center for Children's Books (starred review)
"For some, 'Where are you from?' has a geographical answer, but this kid offers a thoughtful and poignant alternative perspective that showcases the layered textured papers and gouache paints of Mora's illustrations. The answers he ultimately offers readers are as tasty as 'buttermilk biscuits' or as touching as 'bear-tight cuddles,' as soft as pecks on the cheek or as far-reaching as the hopes and dreams of his family. An origin story for the ages—intimate, poetic, singular, and broadly relatable." — Kirkus Reviews
"Multiple-award-winning illustrator Mora creates a vibrant world: double-page spreads pop with bright, detailed collages of painted and patterned paper, including well-considered swatches of printed paper. In his picture-book debut, poet Gray shines a light on a contemplative child who sees his family ethos as a place of reassurance and pride and recognizes his own belonging there as a reader and storyteller. A satisfying and affirmative read about self-awareness and family." — Booklist
Search for books and ebooks