Suzy the Hungry Gull (Paperback)
Search for Books or E-books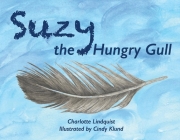 Description
---
This story will transport you to the shores of Lake Superior in Minnesota. Here is where you will meet Suzy the herring gull, and she will tell you the story of her hunger and how her brothers saved her life.

The characters are fictional. The information written about herring gulls is factual and is printed in blue.

The themes running through this story are hunger, sibling love and loyalty and survival.
About the Author
---
Charlotte Lindquist is a teacher by profession. She has taught kindergarteners through fifth graders for 40 years. Her inspiration to write children's literature came about because she always found it challenging to discover books for her classroom that enabled the child to practice their reading skills, enjoy a fun story and have a learning experience at the same time.Cindy Klund is the daughter of the author. She is the artist whose talent tells this story with her amazing watercolor pencil images to compliment her mother's words. Together they created a collaborative piece of art titled Suzy the Hungry Gull.
Search for books and ebooks