Beneath the Bonfire: Stories (Compact Disc)
Search for Books or E-books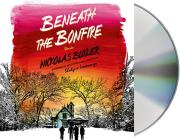 Description
---
Nickolas Butler's debut novel, Shotgun Lovesongs, has become an international bestseller and won numerous accolades, including France's Prix PAGE/America. Now, in Beneath the Bonfire, he demonstrates his talent for portraying "a place and its people with such love that you'll find yourself falling for them, too" (Josh Weil, author of The Great Glass Sea).
Young couples gather to participate in an annual "chainsaw party," cutting down trees for firewood in anticipation of the winter. A group of men spend a weekend hunting for mushrooms in the wilderness where they grew up and where some still find themselves trapped. An aging environmentalist takes out his frustration and anger on a singular, unsuspecting target. One woman helps another get revenge against a man whose crime extends far beyond him to an entire community. Together, the ten stories in this dazzling, surprising collection evoke a landscape that will be instantly recognizable to anyone who has traveled the back roads and blue highways of America, and they completely capture the memorable characters who call it home.
About the Author
---
Nickolas Butler was born in Allentown, Pennsylvania, and raised in Eau Claire, Wisconsin. His writings have appeared in Narrative Magazine, Ploughshares, The Kenyon Review Online, The Progressive, The Christian Science Monitor, and elsewhere. A bestseller in both the United States and France, his debut novel, Shotgun Lovesongs, received the Midwest Booksellers Choice Award, the Great Lakes Great Reads Award, and France's Prix Page/America. Butler graduated from the University of Wisconsin-Madison before attending the Iowa Writers' Workshop and currently lives in Wisconsin with his wife and their two children.
Search for books and ebooks