Tears We Cannot Stop: A Sermon to White America (CD-Audio)
Search for Books or E-books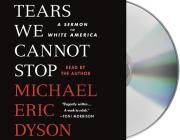 $32.99
Email or call for price.
Description
---
This program is read by the author

"Elegantly written, Tears We Cannot Stop is powerful in several areas: moving personal recollections; profound cultural analysis; and guidance for moral redemption. A work to relish." —Toni Morrison

"Here's a sermon that's as fierce as it is lucid. It shook me up, but in a good way. This is how it works if you're black in America, this is what happens, and this is how it feels. If you're black, you'll feel a spark of recognition in every paragraph. If you're white, Dyson tells you what you need to know—what this white man needed to know, at least. This is a major achievement. I read it and said amen." —Stephen King

As the country grapples with racist division at a level not seen since the 1960s, one man's voice is heard above the rest. In his New York Times op-ed piece "Death in Black and White," Michael Eric Dyson moved a nation. Isabel Wilkerson called it "an unfiltered Marlboro of black pain" and "crushingly powerful," and Beyonce tweeted about it. Now he continues to speak out in Tears We Cannot Stop—a provocative and deeply personal call for change. Dyson argues that if we are to make real racial progress we must face difficult truths, including being honest about how black grievance has been ignored, dismissed, or discounted. Short, emotional, literary, powerful—this is the book that all Americans who care about the current and long-burning crisis in race relations will want to read.
About the Author
---
MICHAEL ERIC DYSON—Distinguished University Professor of African American and Diaspora Studies, College of Arts & Science, and of Ethics and Society, Divinity School, and NEH Centennial Chair at Vanderbilt University—is one of America's premier public intellectuals and the author of numerous New York Times bestsellers including Tears We Cannot Stop, What Truth Sounds Like, JAY-Z, and Long Time Coming. A winner of the 2018 nonfiction Southern Book Prize, Dr. Dyson is also a recipient of two NAACP Image awards and the 2020 Langston Hughes Festival Medallion. Former president Barack Obama has noted: "Everybody who speaks after Michael Eric Dyson pales in comparison."
Praise For…
---
"Wow! Eloquently delivered, sermon-style, without anger or bitterness, this is one of the most heartfelt calls to action I've ever heard." -Audible Range

"Michael Eric Dyson's elegant discussion of the role of race and privilege in white culture proves to be simultaneously provocative and sincere. Because he has framed his book as a sermon, audio is a natural medium for the work." -AudioFile Magazine
Search for books and ebooks