Finding God in All I See, Finding God in You and Me (Hardcover)
Search for Books or E-books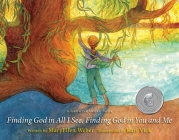 $22.95

Usually Ships in 1-5 Days
Description
---
On a day when Little Girl is feeling sad and lonely, she seeks comfort under the swaying branches of her friend, Grandmother Willow. Grandmother Willow gently invites Little Girl to sit quietly with her feelings until, in the space around her feelings, she begins to sense God.
I thought God was up in heaven, said Little Girl.
Grandmother Willow smiled. Many people think God is somewhere else because they have a hard time finding God where they are.
Little Girl thought for a while. I want to find God Can you show me how?
Grandmother Willow delights in teaching Little Girl to find God in her feelings, in nature, in her pesky little brother, and especially in herself. In this beautifully illustrated meditation, an ancient and very wise teacher reminds us all that God is everywhere and everything is in God.
Search for books and ebooks