In My Dreams (Hardcover)
Search for Books or E-books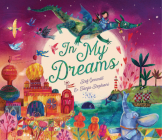 Description
---
A child's imagination takes him on a wild and wondrous journey as he sleeps soundly at night.
In my dreams, I can float on marshmallow clouds, splash in jelly puddles and showers of strawberry rain, lick the stripes off rainbows, tasting the flavors of my favorite fruit.
In his fantastical dream journey, he finds fruit-flavored rainbows, makes mischief with monkeys, swims alongside sea creatures, races against pirates and soars through the sky on a silvery dragon, at the same time as chasing the night shadows away.
Dreams intrigue everybody and this book is a perfect starting point to discuss the world of dreams with children. A magical tale to delight all ages.
Such an imaginative and beautifully brought to life story that will whisk your children to sleep with all the magic of the dream-world.--bookbairn
This just might be the PERFECT bedtime story --burgess.bookshelf
Search for books and ebooks