Every month we'll introduce you to an important book and offer it at a 15% discount!
Based on the journal kept by French explorer Jacques Cartier in 1534, Encounter, by Brittany Luby, imagines a first meeting between a French sailor and an Iroquoian fisher. As they navigate their differences, the wise animals around them note their similarities, highlighting their common ground.
Luby shows her readers through playful, engaging text how choices can result in peace and prosperity even when there seem to be immense differences between individuals. Her stunning use of nature is a reminder that point of view plays a significant role in what one sees (or doesn't see), noting that it's always worth looking from a new vantage point. Encounter is an illuminous telling from two Indigenous creators that invites readers to reckon with the past and to welcome, together, a future that is yet uncharted.
Location:
Valley Bookseller
217 Main St N
Book List: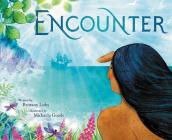 $18.99
ISBN: 9780316449182
Availability: On Our Shelves Now
Published: Little, Brown Books for Young Readers - October 1st, 2019
---