Meet Larry Millett and hear about his newest release, Minnesota Modern: Architecture and Life at Midcentury.
From the genteel elegance of Christ Lutheran Church in Minneapolis to the lowbrow wonder of Porky's Drive-in in St. Paul, the Twin Cities and other Minnesota communities are nothing short of a living museum of midcentury modernism, the new style of architecture that swept through much of America from 1945 to the mid-1960s. Renowned Minnesota architecture critic and historian Larry Millett conducts an eye-opening, spectacularly illustrated tour of this rich and varied landscape.
A history lesson as entertaining as it is enlightening, "Minnesota Modern" provides a close-up view of a style that penetrated the social, political, and cultural machinery of the times. Extending from modest suburban ramblers and ranch houses to the grandest public and commercial structures, midcentury modernism expressed new ways of thinking about how to live, work, and play in communities that sprang up as thousands of military members returned from World War II. Millett describes the style s sources in the work of European masters like Ludwig Mies van der Rohe and Walter Gropius, as well as the midwestern innovations of Frank Lloyd Wright, and its refinement at the University of Minnesota under the guidance of Ralph Rapson and other modernists. He shows us its applications in twelve midcentury homes in Minnesota and takes us through its many permutations in sites as different as Barry Byrne s St. Columba Catholic Church in St. Paul and Eero Saarinen s sprawling IBM complex in Rochester. This is Minnesota modern at its historic best, a firsthand, in-depth history of a singularly American sensibility and aesthetic writ large on the midwestern region.
Location:
Valley Bookseller
217 Main Street North
Book List: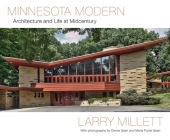 $49.95
ISBN: 9780816683291
Availability: Backordered
Published: Univ Of Minnesota Press - November 1st, 2015
---